Macomb Community College students, faculty and staff honor Martin Luther King, Jr., with a day of service
– Wednesday, January 23, 2019 9:00AM
Approximately 350 students, faculty and staff members from Macomb Community College came together on Saturday, Jan. 19, and on Martin Luther King, Jr. Day, Monday, Jan. 21, to volunteer with a variety of nonprofit organizations throughout Macomb and Wayne counties. This is the ninth year Macomb has organized service activities in honor of MLK Day.
"It is gratifying to witness that our staff and students understand our interconnectedness in creating and maintaining a vibrant and inclusive community and that they are willing to take that understanding a step further by contributing through personal service," said James O. Sawyer IV, president, Macomb Community College. "In essence, our day of service activities are about putting a spotlight on empowering individuals, strengthening communities, bridging barriers and addressing social problems."
Volunteer time was split between activities out in the community and at the college.  Organizations that hosted service work included Second Hand Rose, Gleaners Food Bank, the Veterans Administration Hospital and Detroit Rescue Mission Soup Kitchen. On the college's South Campus, other volunteers gathered and wrote letters to active military service members for Operation Gratitude, made greeting cards for the organization Cards for Hospitalized Kids, made dog tug toys and "adopt me" bandanas for the Michigan Humane Society, and made capes for kids and cuddly creatures that will be distributed by the nonprofit Enchanted Makeovers to women's and children's shelters.
During a brief lunchtime ceremony, student Kamaria Norwood, 20, of Detroit, presented her essay, "Break Every Chain,". which was chosen as the winner in Macomb's 2019 MLK Day of Service Essay Contest. In its sixth year,  the contest is open to the college's students and requires a first-person narrative focusing on how the message of Martin Luther King, Jr., personally impacted the writer. Norwood was awarded a $500 prize by the Macomb Community College Foundation.
Norwood expects to graduate from Macomb next year with an associate degree in general studies before she moves on to Central Michigan University to study health services administration.  In her essay, Norwood highlighted advances in available housing, voting and education since MLK's social action.
"Since Dr. King, I am able to apply to any college I want. I'm not limited to just 'colored' schools but schools that will help me be the best I can be. I'm able to compete with others and get a fair shot because of the credentials I have to offer to the school. I'm not automatically ruled out because of having different skin color," wrote Norwood.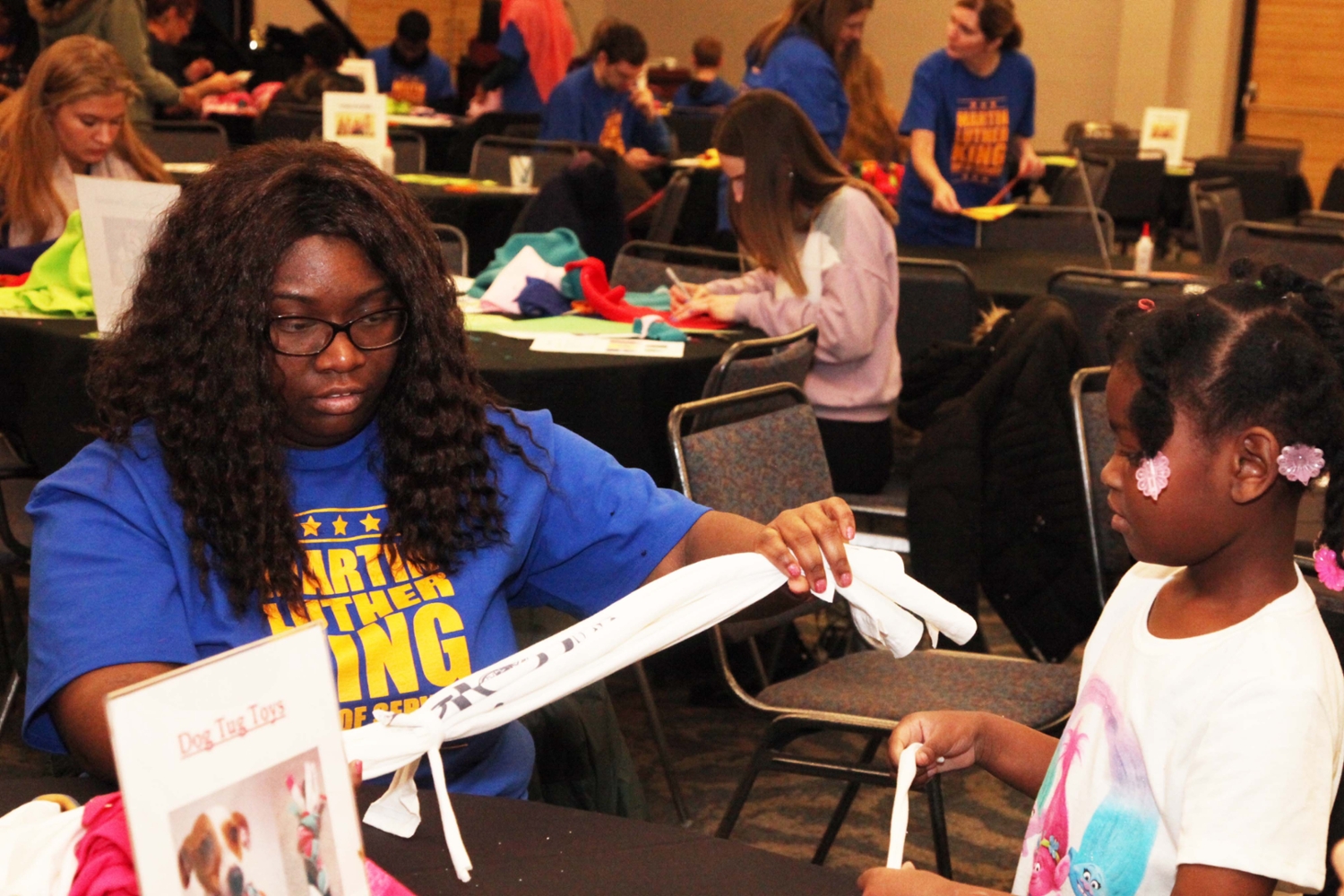 MLK Day essay contest winner Kamaria Norwood (left) and her sister Halo work on dog tug toys for the Michigan Humane Society.
About Macomb Community College
Macomb Community College (www.macomb.edu) is one of the nation's leading community colleges, providing learning experiences to nearly 38,000 students annually. Macomb nationally ranks in the top two percent in the number of associate degrees awarded by community colleges and is the largest grantor of associate degrees in Michigan. The college's comprehensive educational programming includes pre-collegiate experiences, university transfer and career preparation programs, bachelor degree completion and graduate degree programs, workforce training, professional education and certification, and continuing education and enrichment opportunities.
Media contact: Sean M. Patrick, 586.445.7271, patricks28@macomb.edu