Home   »   Community   »   Conference and Event Services   »   Catering and Menus
Catering and Menus
Whether your next event calls for a healthy snack, a meeting brunch or a five-course dinner, Macomb Community College Catering Services has exactly what it takes to fill your plate.
Now featuring three ways to serve you!
Express Pick Up (Fee Free)
Decker's Deli Drop-Off (Fee Free)
Full Service
Contact our Reservations Center at 586.498.4198 for a free quote.
We look forward to serving you soon!
Reservations Center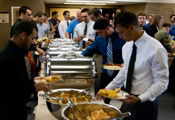 Check out our latest full-service menu, with its mouth-watering variety of options for every budget!