Chef's Choice Dining
It's all-inclusive dining in our newest meeting space:
The Houghton Lake Room
South Campus, K Building, Room 267
Just $9.95 per person!
You have a choice of one meal from the following entrees:
Beef Stroganoff
Meat Lasagna
Deli Buffet (assorted meats and cheeses)
Michigan Chicken Cherry Salad
Chicken Amoglio
Our Chef will provide the appropriate accompaniments, such as potatoes, rice, pasta, vegetable, mixed greens, house salad, rolls, and dessert. Meals also include any of the beverages from the in-room soda dispenser.
The style of service is disposable tableware
Guest counts: 25 (min.) and 68 (max)
Five days advance ordering required
College catering policies apply
Dining room pre-set
Chef's choice dining not available at any other campus location
Contact Our Reservations Center today for a Free Quote. 586.498.4198 (Option #4)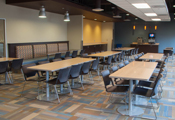 Contact Our Reservations Center today for a Free Quote. 586.498.4198 (Option #4)